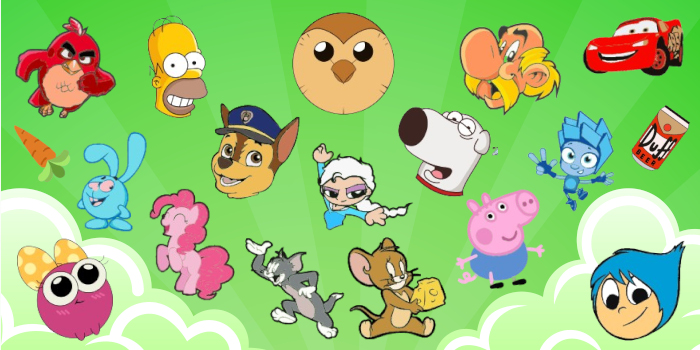 Collection cursor Cartoons
Comedic elements of favorite cartoon characters are inspiring! All "emotional" information is conveyed to viewers through vivid pictures and sound effects. Welcome to the world of animated series!
Continuing the cult of popular animation fame, we have created a collection of cartoon custom cursors.
Many people think that the target audience for cartoons is children and adolescents. With the custom cursor for chrome collection we want to prove that they are wrong. The heroes of your favorite TV series are endowed with personal qualities, character and evoke sympathy from older viewers, making them worry about the characters.
For example, Tom and Jerry has seven Academy Awards. Incidentally, none of the animation duos or solo cartoon characters have received so many Academy Awards. The cartoon cursor collection will tell you about the irreconcilable, but even more comical enmity between the cat and the mouse. Find eternal confrontation in Tom and Jerry cursor style.
In Frozen Elza Snowflake cool cursor the fear of the magical ability to control snow and ice lurks.
Scooby-Doo returns in Scooby Doo Shaggy computer cursor! A new full-length cartoon about the famous Great Dane and a team of detective friends who expose "supernatural" phenomena are presented in a cartoon collection of cool cursors.
Hilda Twig computer cursor will tell you about the adventures of the fearless blue-haired girl Hilda and her fantastic animal Twig the fox, about her life in Wasteland, moving to the city of Trollberg and encounters with various mythical creatures.
Animation characters often find themselves in some ridiculous or funny situations, forcing the audience to laugh at them, then empathize with them, then experience with them.
Now every child grows up on Walt Disney cartoons, and a trip to Disneyland is a childhood dream and a fantasy to get into a fairy-tale world full of magic, and where dreams come true.
Animation is so ingrained in the film industry, audiences love it so much that it is difficult to imagine life without a full-length animated film.
A huge role in this industry was played by the emergence and subsequent development of 3D formats: IMAX 3D, Dolby 3D, RealD Cinema and others. With their help, cartoon characters began to look even more lively.
Originality is highly appreciated at all times. Humanity is watching the development of animation. Everyone is interested to know what will happen next. Where the animation technologies will be able to lead us, so far we can only guess.
Get ready to dive into the depths of cartoons in the custom mouse cursor collection!
Cartoons Cursors Full Pack
94
You still do not have Cute Cursor for Chrome?
Install it from the official Chrome Web Store