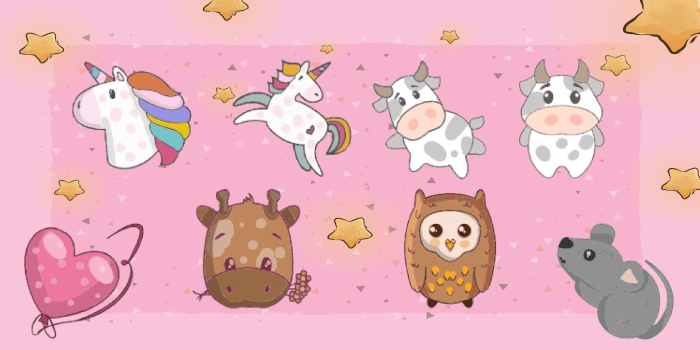 Collection cursor cute-cursors
We become happy when our soul is light and joyful! What can bring you great pleasure and make you smile happily? Well, of course, cute and funny cats and dogs, delicious food, soft toys, mysterious characters from the world of fantasy and magic, and many other adorable and pretty things! Children's dreams come true!
Сute cursors are a kind of aesthetic concept in which we have embodied funny and adorable subjects or objects. Working on the creation of the aesthetic cursors collection, we wanted to make this world more beautiful and give people joy.
A riot of fantasy, eloquence, kindness and love are embodied in kawaii cursors for Chrome. Use some of the fun and cool free cursors from our collection.
The battle of cats and dogs for the human heart is eternal. Animals have become full-fledged members of it. More and more people are showing strong affection for their dogs and cats.
Well, how can you be offended for a long time at a fluffy pet, desperately hanging on the curtains, followed by the collapse of the cornice? We cannot tear ourselves away from the adventures of these animals with amazing, inexplicable charisma.
Cats and dogs occupy two vacancies at once as a companion and a child, receiving an appropriate amount of love, time and care. Find it in Cute Brown Dog mouse cursor and Cute Brown Dog custom cursor.
Perhaps the most rare animals in the world are the rainbow unicorns. They love to run in the meadows in the warm rain. The rainbow unicorn can navigate across the rainbow bridge and help find hidden treasures at its base.
Magic horses live in fairy tales and myths. Proud and indomitable symbol of chivalry in Cute Rainbow & Unicorn custom cursor.
Meet the real superfood star! Cooking doesn't need any culinary skill! A green treat cut in half and carefully laid out on a saucer with a slice of crispy toast looks so delicious. Everything is simple and amazing! Find it in Cute Avocado & Bone custom mouse cursor.
The cute cursors collection contains sweet and funny objects or subjects that are found in our life. They have a profound effect on happiness levels by evoking memories of positive moments in life or loved ones. They do, however, help us to feel good and to experience joy.
Cute cursors are a great tool for extracting joy, motivation and inspiration in your daily life.
Why deny yourself happiness? Cute cursor sets will fill your hearts with kindness, purity and faith in beauty. Use the coolest kawaii cursors that can also improve your mood and create a favorable atmosphere!
cute-cursors Cursors Full Pack
4
You still do not have Cute Cursor for Chrome?
Install it from the official Chrome Web Store