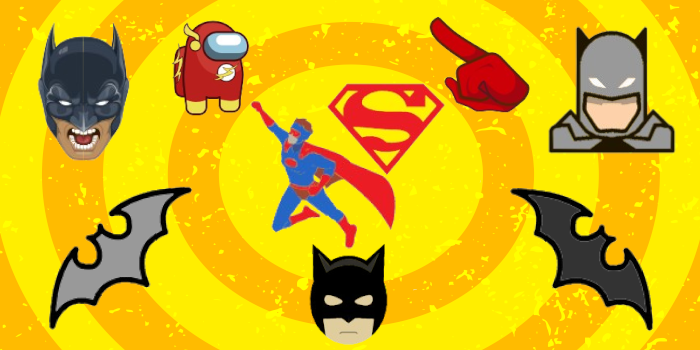 Collection cursor DC Comics
Superheroes from the DC Universe are reborn. Get ready for epic fights against villains with your favorite heroes in Dc comics cursor collection.
The war between supervillains and superheroes has flared up in earnest. These are adventures spanning decades. Our DC comics heroes have found an incredible number of friends and enemies.
Superhero cursors present completely different stories that unite only the same heroes endowed with superpowers. When developing DС characters, we were inspired by the desire to create real heroes with genuine feelings for their homeland, to show their struggle with supervillains. The confrontation between good and evil is what happens in the everyday life of ordinary people.
We present to your attention some free cursors from the DC superheroes collection.
There is no person who has never heard of a flying man in a red cloak and blue suit, in the center of which is an emblem in the form of a pentagonal shield with the letter "S". He needs to perform feats every day along with miracles: save a girl from robbers, uncover a government conspiracy, or stop a train wreck, as well as global warming.
Superman is one of the founding members of DC Comics' superhero team, the Justice League, along with characters such as Batman, The Flash, Wonder Woman, Green Lantern, Aquaman, and the Martian Hunter. Find the possessor of superhuman strength and his logo in Superman cursor.
This attractive woman with superhuman strength is capable of saving the world! Her mind is a real weapon in the struggle for justice and equality in the human world. Meet the experienced warrior and comics superhero Princess Diana with her iconic logo in Wonder Woman cursor.
Enjoy the DC comics femme fatale Katana and her signature weapon, Soultaker. This is a magical sword that traps the souls of the victims it slays within its blade. One of DC's more intriguing superheroines and her Soultaker Sword are available in Katana cursor.
The Joker's madness leaves him invulnerable to torture. Dangers and even death do not frighten him at all, although the instinct of self-preservation always works at the right moment. Find the DC comics supervillain and his Bang Flag Pistol in Joker cursor.
She is a former botanist who gains toxic powers after being injected with various poisons! You need to be extremely careful with her! The villainess plays on human desires, forcing them to follow their instructions or killing. Use a supervillainess in the DC Universe and an enemy of Batman in Poison Ivy DC comics cursor.
A conflict of interests flares up between the characters, and each has its own truth. As the superhero war continues, the planet is under even greater threat.
The history of the heroes has repeatedly changed in the comics, as well as the composition, but their goal remained unchanged: the fight against evil, which none of the heroes could cope with alone.
The greatest heroes of all time affect the world and society around us! The DC comics cursor collection is an organic story woven into the holistic world of DC comics heroes.
Marvel Comics is a big Universe with so many characters all over the Galaxy. Our collection of Marvel includes Avengers cursors with the most popular characters and as well cursors with Guardians of the Galaxy. Looking at a cute Rocket Raccoon mouse cursor or Gamora hover pointer with a cursor that can extend your everyday browsing experience. Much more superheroes are waiting for you in the comics cursor collection. Marvel cursors for the mouse is a fan collection of mouse cursors for Chrome. Chrome cursors with Marvel Superheroes will be actual for everyone who loves comics and would like to help keep the world safe together with the main heroes.
DC Comics Cursors Full Pack
20
You still do not have Cute Cursor for Chrome?
Install it from the official Chrome Web Store