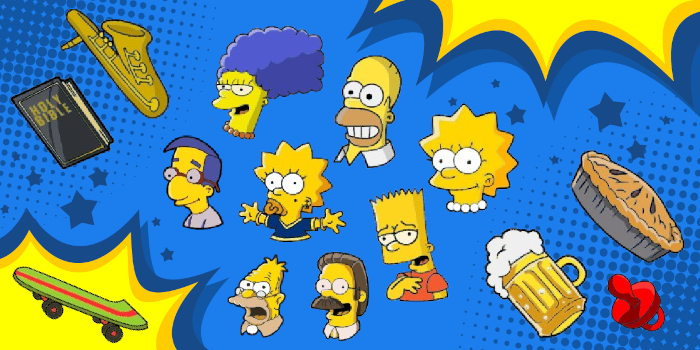 Collection cursor The Simpsons
It's time for amazing stories and adventures! A family that everyone knows! Don't hold back your emotions!
The Simpsons custom cursors are much more than just a collection of pop culture jokes. They are believable enough to be loved.
Cool cursors collection tells about ordinary American people, free from prejudices, beliefs and predilections. The Simpsons advocate the importance of the role of the family in modern society.
As a result of their interaction, some kind decisions are always made, and conflict situations end well. This is what inspired us to create The Simpsons free cursors.
The Simpsons has created so many incredible characters that choosing a favorite is impossible. We bring to your attention some cool mouse cursors from the presented collection.
The head of the family and the king of his life Homer Simpson is lazy and smart at the same time, but he is definitely happy! He loves his beautiful wife Marge and three children. He loves to drink his favorite Duff beer and is afraid of cockroaches and snakes. Find him in The Simpsons Homer & Duff Beer custom cursor.
This cute baby is quite funny and smart for her age. She handles the weapon easily, makes a "rose" out of a broken milk bottle, stacks the toast and breaks it in half with the edge of her palm. Enjoy her in The Simpsons Marge & Maggie In Grocery Bag mouse cursor and The Simpsons Maggie & Baby Bottle custom cursor.
Eight-year-old girl Lisa is clever enough and reasonable. She loves music, science, animals and painting. A baby with a superior intelligence in The Simpsons Lisa & Saxophone custom cursor.
Ruthless multibillionaire with a lead heart, Mr. Burns. He is looking for various extravagant adventures, even if they are not much more enjoyable than the usual trivial things. Enjoy The Simpsons Mr. Burns & Hound Dog mouse cursor.
Moe Goes From Rags To Riches! His pugnacious heart, his rages and joys and astonishing depths will not leave you indifferent. Bar owner and his best friend in The Simpsons Moe Szyslak & Bar Rag custom mouse cursor.
The Simpsons is an iconic satirical animated series that parodies the lives of typical Americans. It tells the story of a family consisting of Homer's dad, Marge's mom, daughters Lisa and Maggie, and their unbearable brother Bart.
The Simpsons grew from the best satire of sitcom families into the best satire of everything in the history of television.
The Simpsons don't get old! There is no more famous American family in the world than the Simpsons. Become a part of modern culture in The Simpsons cute cursors!
The Simpsons Cursors Full Pack
10
You still do not have Cute Cursor for Chrome?
Install it from the official Chrome Web Store