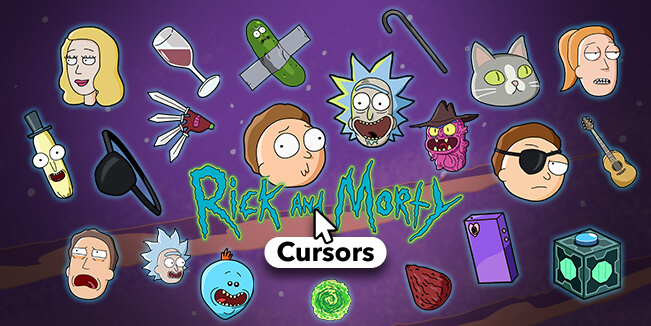 Collection cursor Rick and Morty
For those who want to seriously play with time and delve into the jungle of physics! Meet the collection of Rick and Morty free cursors.
Non-existent words of Rick and Morty have become an integral part of the life of fans of the comedy series. Phenomena that have not yet been proven by scientists impress conspiracy lovers.
Fantastic events will not go unnoticed and will not go into oblivion. A real trip to space with a collection of Rick and Morty best cursors! Doesn't sound cool enough?
Super-logical and non-trivial plots, trashy and depth of vision of the world inspired the creation of the Rick and Morty cursor collection. Here are some of the coolest mouse cursors.
Rick Sanchez is a phenomenally talented character. He is insane, not devoid of a sense of humor, selfish and knows how to collect robots in the garage for fun. Would you like to have such a grandfather in Rick and Morty Rick Sanchez Portal Gun change cursor?
Morty is an adorable guy who does not understand what is happening to him. Over time, these non-intelligent brains will learn to amaze you. Explore this in Rick and Morty meme.
Summer Smith is very attached to her phone and social media, taking videos of her dog Snuffles when he became super-smart, and shuddering at the thought of her father Jerry joining Facebook. Enjoy the legendary Summer Smith phone in Rick and Morty cursor.
Portal Gun is an experimental tool used to create two portals through which objects can pass. The primary function of a portal gun is for traveling. Find it in Rick and Morty Rick Sanchez Portal Gun cursor changer.
Mr. Poopybutthole is a wild, crazy,anthropomorphic banana. He is always going around spewing silly catchphrases and doing funny things for everyone.Enjoy it in Rick and Morty custom cursor.
The Scary Terry can travel in his sleep. Welcome to the bloodthirsty nightmare in Rick and Morty Scary Terry cartoon cursor!
The animated series "Rick and Morty" is dedicated to the misadventures of the cynical mad scientist Rick Sanchez and his naive, capricious and insecure grandson Morty. Every episode of Rick and Morty is a masterpiece. If traveling at the speed of light is to be plausibly justified, this collection of free cursors is possible!
Rick and Morty Cursors Full Pack
10
You still do not have Cute Cursor for Chrome?
Install it from the official Chrome Web Store