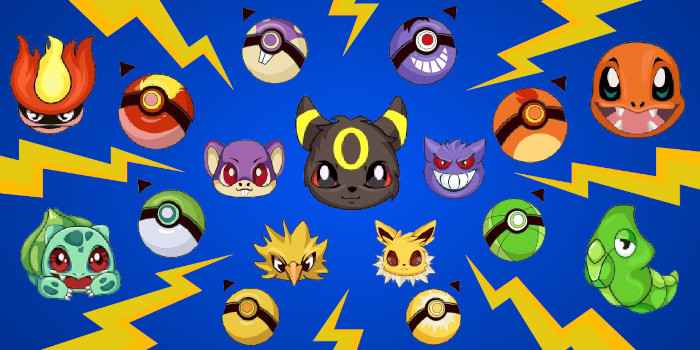 Collection cursor Pokemon
Welcome to the Pokemon Universe, where you can catch and train it. Start exploring the world looking for Pokemon.
Pokemon are fictional creatures that play a central role in the Pokemon series, manga, and anime. Pokemon are reasonably intelligent, some can talk. Pokemon possess various kinds of supernatural powers. By the nature of their abilities, they are divided into types, classification by spontaneous affiliation. Some Pokemon belong to two types at once, combining their properties. Even the strongest Pokémon have some weaknesses.
Each Pokemon has lives, speed, and attack and defense, which can be divided into normal and special. Pokemon species can be very different in all of these dimensions. If the first Pokemon cannot really boast of them, then as the rarity of creatures increases, their characteristics grow. Especially when it evolves. If a Pokemon wins a battle, it gains experience. Upon reaching a certain amount of experience, its level increases, and hence its characteristics.
The pokemon mouse cursors collection was inspired by the fictional Pokemon Universe, which is set in the entourage of alternative modernity. There are special creatures in this world – Pokemon. A series of video games, anime, as well as manga, and other related products are tremendous success in the world.
Pikachu cursor pointer is the most recognizable Pokemon. He is quite headstrong and does not like restrictions. Pikachu is capable of releasing electrical energy, and its impact force is comparable to lightning.
In the wild, it's hard enough to catch Pokemon Bulbasaur Venusaur change cursor. It is unclear whether Bulbasaurus and its forms are plants or animals, since they contain traits of both.
Pokemon Charmander Charizard cursor changer looks like a giant dragon. This Pokemon loves to fight with strong opponents, but he does not attack those he considers weaker than himself.
You can find Jigglypuff that evolves into Wigglytuff with Moonstone in Pokemon Jigglypuff Wigglytuff mouse cursor. You might be interested in Gengar, the final form of Gastly in Gastly Gengar custom cursor.
To catch and transport Pokemon, use the ball-shaped pocket devices in pokeball mouse cursor.
Prepare Pokemon for battles! Compete in Pokemon Battle Challenges that closely resemble real-world sports. Everything you need to know about Pokemon in cursor mania!
Pokemon Cursors Full Pack
57
You still do not have Cute Cursor for Chrome?
Install it from the official Chrome Web Store