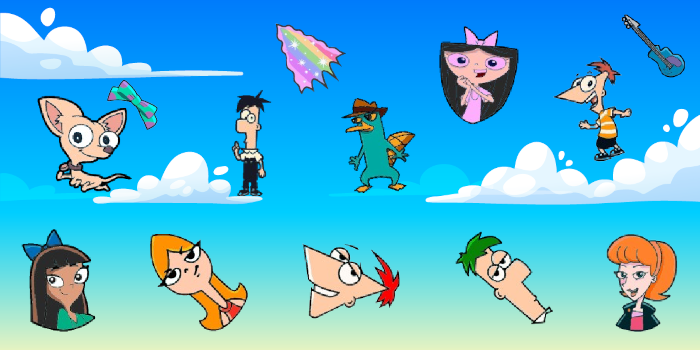 Collection cursor Phineas and Ferb
A giant roller coaster through the whole city or a portal to Mars, a trip to the past or the future, a building as high as the moon, a day trip around the world following the sun. What pranks are you ready to go with the Phineas and Ferb cartoon cursor collection?
The story of two amazing boys, whose inventions have no limit, inspired a collection of cool free cursors. Who can stop the scientist Dr. Heinz "Doof" and prevent the evil plans from coming true? For insane adventures and incredible antics, use the Phineas and Ferb mouse cursor collection.
Cool mouse cursors features hilarious stories about two stepbrothers who constantly invent and relax during their holidays.
Meet Phineas Flynn! He is the main character of Phineas and Ferb best mouse cursors. Ferb and his stepbrother Phineas Flynn spend their days during their summer vacation having fun. Find it in Phineas and Ferb characters.
Candace Flynn is Phineas's older sister and Ferb's stepsister. Although she gets angry with her brothers, she loves them deep down. Candace can't imagine her life without a phone. Candace Flynn and her phone in Candace Phineas and Ferb cursor.
Isabella Garcia-Shapiro has an obvious crush on Phineas Flynn of which he is unaware. She is the leader of the Fireside Girls troop 46231. The troop often helps Phineas and Ferb in their projects. Enjoy her look in Isabella Phineas and Ferb cursor.
If you really want to pull together Stacy look from Phineas and Ferb, having your cell phone in hand will make your appearance that much better! Enjoy her in Stacy Phineas and Ferb cursor.
At the same time as Phineas and Ferb are having fun, the evil scientist Dr. Heinz Doofenshmirtz is building another machine that breeds evil, with which he hopes to seize power. Enjoy Phineas and Ferb Dr. Doofenshmirtz cursor.
Meap is very friendly, open to other races with a smile. He spends most of his time probing deep space for anything that would pose a threat to extraterrestrial order and safety. Enjoy a destructive "rainbow beam" from his mouth in Meap Phineas and Ferb cursor.
Phineas and Ferb is an American animated series with two storylines. One implementation by two consolidated accusations, Phineas and Ferb, incredibly complex and seemingly dangerous projects. Another storyline tells about the attempts of the evil scientist Dr. Heinz Doofenshmirtz with the help of his inventions to seize power and avenge his old misfortunes.
Are you ready to take a direct part in the tricks of crazy boys or to interfere with the evil plans of the scientist Dr. Heinz "Doof"? Have fun realizing incredibly complex and unsafe projects with Phineas and Ferb cursor mania.
Phineas and Ferb Cursors Full Pack
11
You still do not have Cute Cursor for Chrome?
Install it from the official Chrome Web Store