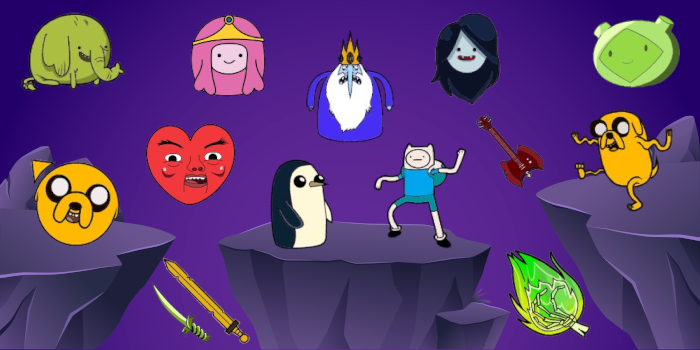 Collection cursor Adventure time
This is the time of the extraordinary, cute and funny, dark and light at the same time. Welcome to the world of Adventure Time!
To create the cartoon cursor collection, we were inspired by the desire to travel through the post-apocalyptic world of Ooo, magic kingdoms and fun places. Witty banter and funny jokes we embodied in adventure time cursors. The beautiful graphics of free cursors will let you enjoy the stories of your favorite characters.
Adventure Time is an animated series about two friends – the boy Finn and his dog Jake. They live on Earth that has survived a nuclear war. True, now the post-apocalyptic world is called Ooo, and mutants inhabit it.
Meet Finn. He is practically the only person in the post-apocalyptic space of the planet Earth. The golden sword of battle is Finn's weapon of choice throughout most of seasons one and two. Find the sword of battle in Adventure Time Finn's Sword custom cursor.
Jake is a "magic dog" with a unique set of abilities that allow him to control the shape and size of his body. He loves adventure and willingly fights when he needs it. Enjoy your favorite character in Adventure Time Jake The Dog custom mouse cursor.
BMO is a loyal, trusting and helpful robot who is protective of Finn and Jake. Finn and Jake often take him on their travels, but BMO can play with himself. Use BMO and his Skateboard with our Adventure Time BMO Skateboard free cursor changer.
Princess Bubblegum lives in her Candy Kingdom and can transform other people and objects into candy. She is smart, well-read, lives by experimenting and creating something new. Explore it in Adventure Time Princess Bubblegum Power change cursor.
Lumpy Space Princess is a typical teenager. She looks like a purple cloud, moody and slightly vulgar. Enjoy Adventure Time Lumpy Space Princess Phone change cursor.
Gunter is the penguin that most commonly accompanies the Ice King. He serves him, but often does everything wrong. Adopt it in Adventure Time Ice King Gunter cartoon cursor.
Adventure Time is the best of the best! The collection of animated series cool cursors will not leave you indifferent. Whoever laughs at Jake's jokes, is surprised at Finn's exploits and loves Adventure Time with all his heart, join cool mouse cursors!
Adventure time Cursors Full Pack
12
You still do not have Cute Cursor for Chrome?
Install it from the official Chrome Web Store