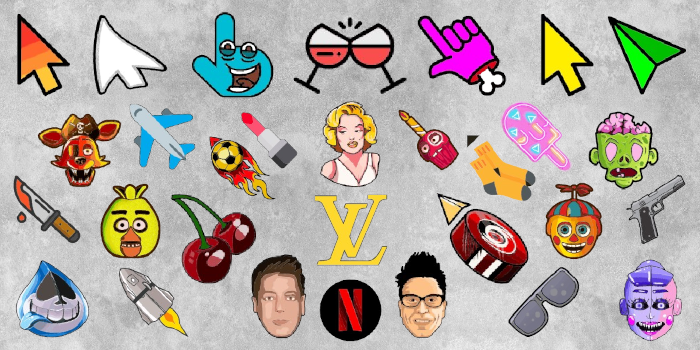 Collection cursor Kursor dasar
Bahkan detail terkecil dapat membawa sukacita dan keposaan ke dalam kehidupan sehari-hari! Selalu menjadi tren, bahkan di rumah, bekerja atau sekolah. Menghabiskan waktu di komputer bisa menjadi cantik dan tidak membosankan!
kursor gratis dasar adalah alternatif yang layak untuk membuat kursor standar yang membosankan.
Kursor estetika terlihat cukup bergaya dan modern. Mereka berbentuk elegan dan mengandung berbagai tema dan gaya.
Saat membuat koleksi kursor mouse kustom dasar, kami terinspirasi oleh gagasan & zerowidthspace; & zerowidthspace; memungkinkan pengguna untuk mengubah kursor tangan menjadi sesuatu yang lucu.
Sekarang Anda bisa melupakan pointer kursor yang membosankan dan sederhana pada layar. Penggemar antarmuka minimalis akan menyukai kursor estetika yang dipasang untuk Chrome dengan bentuk dasar dan berbagai tema.
Memenuhi beberapa kursor keren dari koleksi dasar kami.
Menyaksikan air di Bosom of Nature adalah pemandangan yang menarik, resep nyata untuk kebosanan. Kemampuan untuk mengamati air memberi kita rasa koneksi yang besar dengan alam. Air adalah keindahan yang sempurna yang memberi planet kita yang luar biasa, memikat penampilan. Betapa menawan overflow air, betapa indahnya! Temukan di pointer mouse air.
Semoga ada banyak hal yang indah dan bermanfaat! Bumi adalah bukti luar biasa tentang kebesaran dan kekuatan alam. Aromanya sangat unik sehingga seseorang tidak dapat menangkapnya. Karena fakta bahwa bumi ada, semua makhluk hidup dalam kesehatan yang baik, melakukan kegiatan mereka, berusaha untuk pembangunan. Bumi mengambil nuansa yang tidak biasa dan fantastis dalam pointer kursor bumi.
sering, mencari yang indah, seseorang melakukan perjalanan dunia. Dan tidak memperhatikan keindahan yang selalu bersama kita. Apakah Anda ingin bergegas ke suatu tempat menuju angin dan alam? Temukan di kursor tangan angin.
Apa yang sulit dibayangkan budaya pop modern tanpa? Tentu saja itu zombie! Jika vampir, manusia serigala, elf, alien mengganggu orang, lalu zombie hampir tidak pernah.
zombie estetika adalah semacam pemberontakan terhadap masyarakat konsumen dan mode glamor. Zombies membuat kita menghadapi kebenaran telanjang tentang kehidupan kita dan proses penuaan yang tidak pernah berakhir. Menjauh dari realitas yang akrab dan menikmati kursor zombie.
Kursor khusus dasar adalah kualitas yang sangat tinggi, indah dan praktis untuk digunakan. Mereka tidak hilang pada halaman web karena kursor mouse berwarna cerah akan selalu ada di depan Anda.
Kursor mouse keren dengan bentuk dasar dan warna-warna cerah akan terlihat harmonis dengan tema apa pun yang telah Anda instal, serta dengan berbagai gambar yang dipilih sebagai latar belakang utama komputer Anda.
Saatnya mengganti kursor mouse reguler Anda dengan kursor mouse yang menyenangkan, berwarna-warni, dan bergaya!
Bawa pembaruan ke antarmuka desktop Anda. Tunjukkan kepribadian Anda dengan kursor kustom yang cerah dan indah.
Kursor dasar Cursors Full Pack
237
You still do not have Cute Cursor for Chrome?
Install it from the official Chrome Web Store